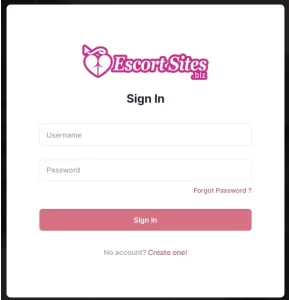 The Ultimate Escort Website Builder: A Seamless Fusion of Design and Functionality
In today's rapidly-evolving digital landscape, the need for a compelling online presence is more critical than ever. Businesses and professionals across all sectors are recognizing the profound impact that a strong digital identity can have on their success. The escort industry, with its unique blend of discretion, allure, and personal connection, is no exception to this modern imperative.
For escort agencies and independent escorts, this poses both a challenge and an opportunity. On one hand, the demands of creating a website that reflects professionalism, elegance, and trustworthiness can be daunting. On the other, a well-designed digital platform can dramatically elevate their reach, reputation, and clientele.
Enter www.escortsites.biz (escort website builder), a beacon in this digital maze. We've crafted a solution that not only understands the intricate needs of the escort industry but also simplifies the process of establishing a commanding online footprint. Whether you are an independent escort aiming to connect with a broader audience or an agency looking to streamline and showcase its models and services, our platform offers an unmatched blend of ease, elegance, and effectiveness.
Welcome to the next generation of online representation for the escort industry.
1. Escort Website Builder: Revolutionizing the Industry
Our escort website builder integrates aesthetics, discretion, and user-friendly functionalities seamlessly. We acknowledge the importance of first impressions and ensure that every website built using our platform exudes elegance, professionalism, and trustworthiness, striking a chord with its target audience.
Unique Web Site Builder Tailored for Escorts: One of the standout features of our platform is its specificity. Unlike generic website builders, our escort website builder is crafted with the unique needs of escorts in mind.
Different Versions for Diverse Needs: Whether you're an independent escort seeking to build a personal brand and connection with clientele or  escort website an escort agency aiming to provide a collective showcase of talents, we've got you covered. We've devised versions specific to each scenario, ensuring that every user gets a bespoke experience, perfectly aligned with their objectives and the nature of their services.
2. Hassle-Free Web Design for Escorts
Drag & Drop Design with Zero Knowledge Required: Venturing into the digital space can often seem daunting, especially for those who haven't dabbled in the intricacies of web design. But with our platform, you don't need to be a tech aficionado. Designed keeping in mind both novices and experts, our website builder employs a user-friendly "drag and drop" mechanism. This means you can literally select elements you want (like images, text boxes, or galleries) and place them where you desire on your website, all with the simple click and drag of your mouse.

But what truly sets us apart is the specialized nature of these tools for the escort industry. Features aren't just generic; they are tailored to highlight what matters most for escorts and their clientele. The interface is intuitive, ensuring that even those with zero prior experience in web design can effortlessly craft a site that looks professional, elegant, and, most importantly, represents their unique brand. Furthermore, our built-in guides and prompts ensure that at each step, users are guided, making the process of building an escort website not just simple, but also enjoyable.

Pre-Designed Free Templates: Choose from an array of aesthetically pleasing templates designed for the best escort web design experience. Each template is crafted keeping in mind the nuances of the escort industry.
3. Comprehensive Features for a Stellar Escort Site
Photo & Video Galleries: Upload photos and videos for each of the escort models. With the watermark function you can rest assured that your content will not be stolen.
Engaging Blog and Newsletter Modules: Keep your clientele updated with informative blog posts, newsletters, and city tours announcements. This not only engages visitors but also boosts your escort website design credibility.
User List Management: Efficiently manage and categorize your user list, ensuring timely communication and seamless management.
4. Amplify Your Online Presence with our Escort Website Builder
Free Web Hosting, Domain, and SSL Encryption: Steer clear of technical jargon and hosting hassles. With our web design for escort agencies and individual escorts, enjoy free hosting, a domain, and top-tier SSL encryption for enhanced security.
Mobile Friendly Interface: With the majority of users accessing sites via mobile, our independent escort web design ensures your website looks impeccable across all devices.
Integrated Marketing Tools and SEO: In today's saturated digital market, merely having a website isn't enough; it's essential to ensure your website reaches the right audience. Our platform empowers you with a suite of integrated marketing tools tailored specifically for the escort industry. From email marketing integration to social media linking, each tool is designed to boost your online visibility and engagement.

Moreover, our commitment to the best escort web design practices extends to the realm of Search Engine Optimization (SEO). We've intricately woven SEO best practices into the fabric of our builder, ensuring your website is not just aesthetically pleasing but also optimized for search engine visibility. With meta tags, sitemap generation, and structured data, your website is primed to rank higher than your competitors on search results, bringing more organic traffic your way. Rise above the competition by leveraging a platform that understands and prioritizes both your design and digital marketing needs.

Free Submissions to Online Escort Directories: We offer you a unique system that saves you hundreds of hours of work. With just a few clicks you place your escort ad on dozens of "Escort Directories" websites that we partner with. We try on daily bases to create more partnerships with Escort Directories to provide you the maximum visibility.
Comprehensive Statistics and Analytics: Stay informed and ahead with our advanced analytics feature. For every page and for all your media content including videos and photos, receive detailed insights on views, engagement rates, and more. Visualize your site's performance and trends with intuitive charts, allowing you to optimize based on real data. Whether you want to see which services are gaining traction or identify the most viewed media on your site, our platform provides a granular view of all interactions, empowering you to make informed decisions for your site's growth.
Global Reach: Available Worldwide: No matter where you are or where your clientele hails from, our platform is designed to cater to escorts and agencies on a global scale. Our escort website builder transcends borders, ensuring that you can establish a professional online presence anywhere in the world. Be part of a truly international platform, connecting you to opportunities and clients across continents.
Multilingual for a Global Audience: Cater to clients from different parts of the world with our multi language  feature, making your services universally accessible.
5. Conclusion about our Escort Website Builder
In a digital-first world, www.escortsites.biz is leading the way with its specialized escort website design offerings. The platform brings together state-of-the-art web design for escort agencies and independent escorts alike, ensuring they resonate with their target audience effectively. With an impressive array of features and ease of use, it's no wonder it's heralded as the best in the industry. Dive into the future of escort web design and redefine your online presence. Join us today!
Photo Gallery of our Escort Website Builder